Sydney Squash Academy welcomes Darcy Evans to the coaching team of the Academy. Darcy joins fellow Melbourne-based Squash Mechanics Touring Professional Rex Hedrick adding a mix of experience and youth to the team.  Sydney Squash Academy will be operating from Willoughby Squash Club, Lane Cove Squash, and The Bondi Waverley Squash Club.
Darcy is well known in the Squash scene in Australia both as a player and coach. The Tasmanian-born professional made the move to Sydney in 2013 chasing his dream of becoming a Professional Player. In that time he has worked under and with some of the greatest coaches in the World including RMS head coach, ex-World #2 and World Champion Rod Martin. Darcy is currently ranked #9 in Australia and #208 on the PSA World Rankings. "Darcy is an amazing coach" Ian Aitken, Willoughby Squash Club's owner states."His ability to connect with his students, his attitude, personality, and skills are amongst the best I have encountered in more than 40 years in the industry."
"Willoughby Squash has a huge junior player base, many of who have just competed in the AJO in Darwin."  Darcy states "I can't wait to get on court with all the juniors and help them get to the top of their game. There are going to be a lot of changes at the clubs and I am looking forward to seeing all the kids continue to improve." Sydney Squash Academy will also be developing Junior programs at its other venues Lane Cove Squash and The Bondi Waverley Squash Club.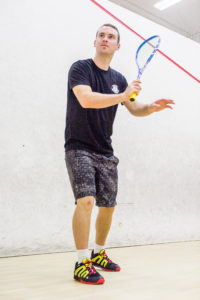 Darcy's Rankings and Achievements
State- Junior #1 for NSW and Tasmania
Nationally ranked #2 for under 19s 2013
Juniors
Making the Grand Final of the Australian National Championships 2013
Being number 1 Tasmanian Junior for under 19s 3 years in a row
Winning the Willoughby Junior Open U23s 2013
4th in the Australian junior Open 2013
Representing Tasmania at the Australian Junior Championships 3 times
Achieving a ranking of 2 in Australia for under 19s 2013
Winner of the NSW Country Junior Championships 2013
6th in Australian Junior Open 2012
2nd in ACT Open 2012
Senior:
Playing Professional Squash events all around the world
Representing Australia VS Malaysia in a Test Match
Winning the Devonport Open 2012
Winning the Eastside Open 2 times
Won the Waipukaraw Open NZ 2012
Darcy will be actively running programs at the Bondi Waverley Squash Club, Willoughby Squash Club, and Lane Cove Squash and can be contacted on 0488 909 305 or Darcy@squashmechanics.com